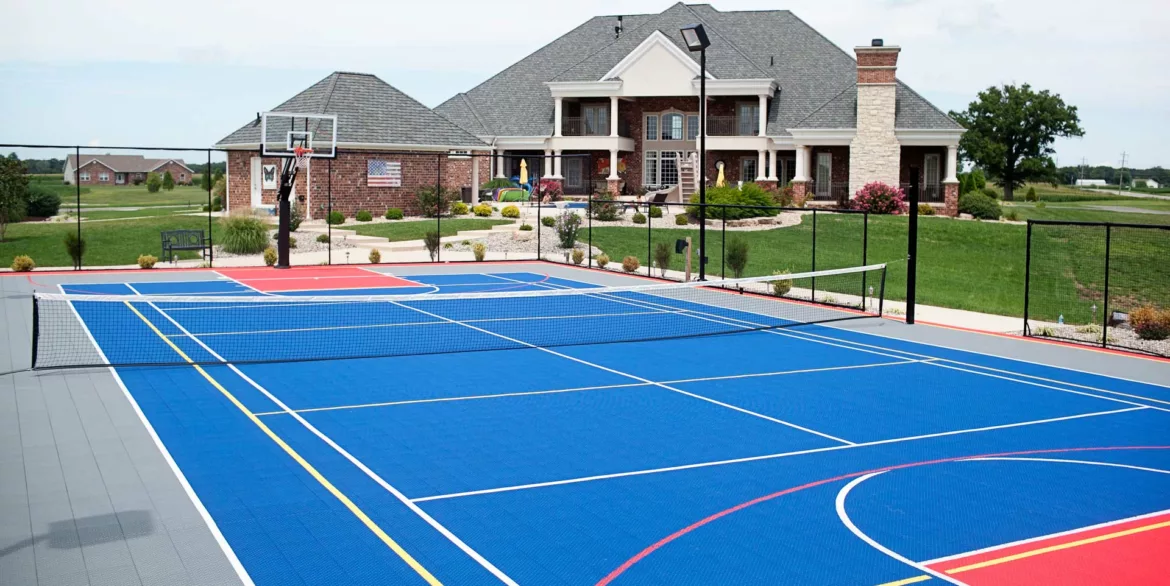 THE BENEFITS OF OWNING AN OUTDOOR GAME COURT
Check out that big, empty space in your yard. You've been mulling over how to utilize that space for years. Your mind has bounced all over the place from swimming pools to pergolas, but there's one idea that keeps grabbing you and lives rent-free in your head — your own outdoor game court. You keep turning this over in your mind, but for whatever reason, you've been holding back on building the court you and your family have always wanted. Well, let us give you the little push you need to bring your dream court to life. Learn a few benefits to building your own personal FlexCourt and make the most of your outdoor space.
Safety Is Our Top Priority
No matter where your kids play, their safety is at the forefront of your mind. A spill on an asphalt slab or your driveway can and likely will result in tears and hydrogen peroxide. The simple truth is these solutions weren't designed to maximize the safety of backyard athletes. When you order your own  FlexCourt, you guarantee a playable surface that's specially designed to absorb impacts better than traditional athletic flooring, giving you and your young athletes the safest, most physically forgiving court available.
Your Court Your Way
Not every court is made to your specifications — in fact, most haven't been by an overwhelming majority. For example, while the public park may be a great place to shoot some hoops, that court may not be as accommodating to other sports like volleyball or pickleball. Customizing your own FlexCourt means having your court the way you want it, from multi-game lines, lights, hoops, and nets to colors and logos.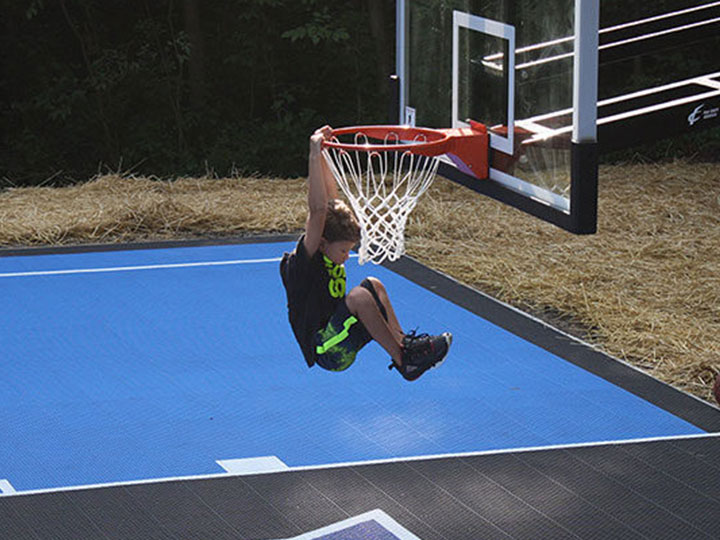 Train All Day, Any Day
Gyms and community centers close. If you want to get some training in afterhours or on a holiday, you may be out of luck. But with your own personal training center courtesy of FlexCourt, you can ball all day every day. Head out for some midnight hoops or set up some killer spikes on Thanksgiving — your own personal court means you schedule practice whenever you want.
Fun for All
A  FlexCourt isn't just for putting in some serious work — it's also for making long-lasting memories with friends and family. Durable and virtually maintenance free, your FlexCourt will serve as a go-to recreation spot for your kids for years, becoming a core memory of their most formative years and a place they'll bring their kids to play. Plus, as you age, the high shock absorption and minimal strain on joints means you'll be able to enjoy your court for decades to come.
Maximize your outdoor space today — we can help. Learn more about FlexCourt outdoor tiles and build your court your way.