Indoor Basketball Goals
Wall Mount Goals
Ideal for easy installation. No need to calculate exact extension requirements before ordering. Designed to provide wall-to-backboard extension distances from 4′ – 8′ during installation. Can be "fine-tuned" to match the floor court markings. Easily configured to match up to any basketball backboard.
Backboard Size: 72"
Backboard Material: Acrylic and Glass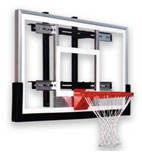 Portable Goals
Ideal if frequent rim height adjustments not needed. Extension arm attached to vertical post using two heavy duty U-bolts. To transport – retract vertical post, using post actuator located on base unit. As post pitches back, goal lowers onto transport wheel. Return post to vertical position for play. Goal rolls easily into any garage. High-quality post pad covers front of unit.
Backboard Size: 48" and 60"
Backboard Material: Acrylic and Glass