Net Systems
FlexCourt®  Net System
Turn a half basketball court into a multi-game arena with the addition of a few simple lines. Nets can quickly lower for tennis, pickleball, paddle tennis and any other game and quickly raised up to play badminton and volleyball. It's a great addition to any ½ or full court and the net is 100% custom made to fit.
Options:
Single Pole Net System
Full Multi-Net System
1 Light Pole Full Multi-Net System
2 Light Pole Multi-Net System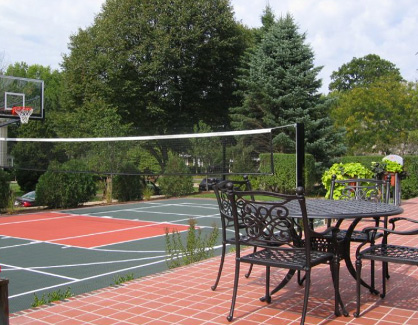 Rebounders
FlexCourt Rebounder System
Perfect addition to all courts. Our rebounders are a multi-functional training aid allowing athletes a realistic ball response and the ability to react properly to every play. Great for tennis – tennis pros comment on what a great tool for blossoming athletes to practice by themselves to enhance skills. Also, for basketball to work on passing and catching and fast breaks, shooting soccer balls, hitting volleyballs, hitting slapshots, and even flinging a lacrosse ball.
2 Standard Sizes: 10't x 10'w and 10't x 20'w