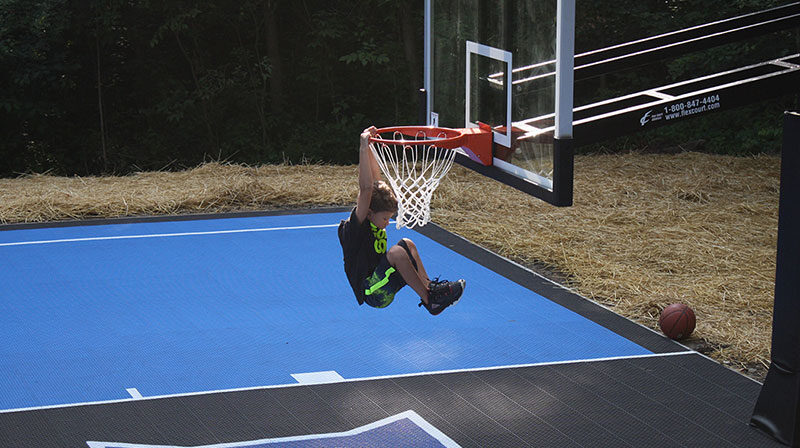 FleXtreme Basketball Goals
We have the best performing and best value Basketball Goals for your Custom Court that come standard with Tempered Glass backboard. The FleXtreme Goals provide peace of mind for players of all ages and heights because the effortless height adjustment allows even the youngest basketball player to lower the goal from 5'-10'. The FleXtreme goals are the safest goals because they come standard with a complete pad set so you can have peace of mind your family is safe when they play on our goals. The FleXtreme Goals are available in adjustable and fixed height goals to fit every need and budget, and our goals are backed by a lifetime warranty which covers Dunking on the Rim.
Rebounders
The Flex Court Rebounder system is the perfect addition to all courts. Our rebounders are a multi-functional training aid which allows the athletes with a realistic ball response and gives them the ability to react properly to every play, very similar to real gameplay. Our rebounders are ever great for Tennis, and the tennis pros who have used these comment on what a great tool these are for blossoming athletes to practice by themselves to enhance their skills. While they are great for tennis they can also be used for basketball to work on your passing and catching and fast breaks, shooting soccer balls, hitting volleyballs, hitting slapshots, and even flinging a lacrosse ball.
They come in 2 Standard Sizes 10't x 10'w and 10't x 20'w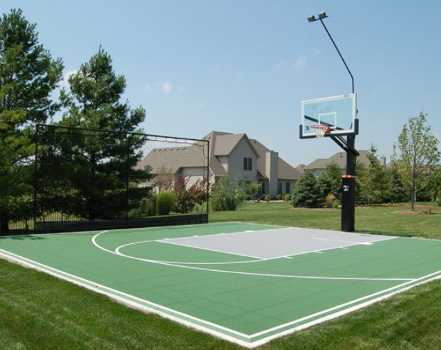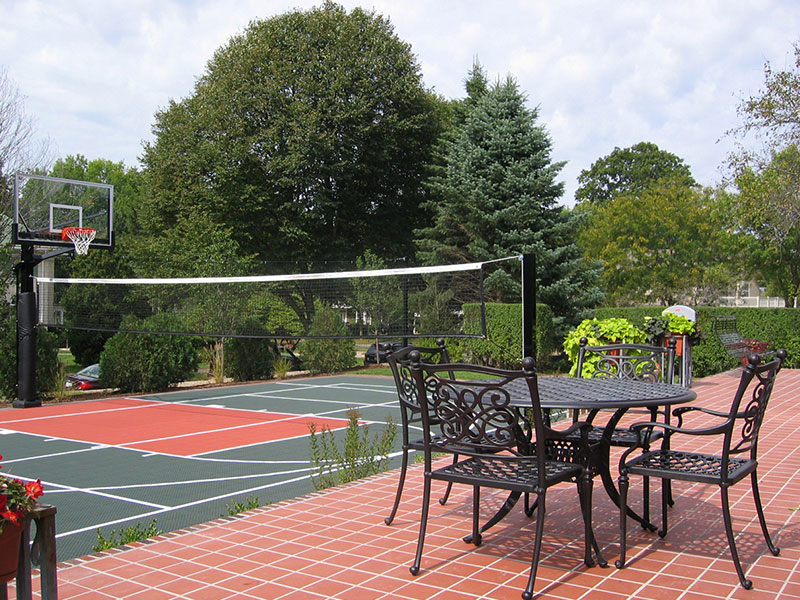 Multi-Sports Net Systems
Is it possible to play more sports than basketball on your court? With the addition of our Multi-Net System, you can turn a half basketball court into a multi-game arena with the addition of a few simple lines. The nets can be quickly lowered for tennis, Pickleball, Paddle Tennis and any other game you make up, and quickly raised up to play badminton, and volleyball. They are a great addition to any ½ or full court and the net is 100% custom made to fit your court.
Options:
Single Pole Net System
Full Multi Net System
1 Light Pole Full Multi-Net System
2 Light Pole Multi Net System
Ball Containment Fencing
Flex Court's ball containment system is a better option than standard vinyl coated chain link for your backyard. The ball containment is more appealing than chain link fencing with the netting vs. chain link. While it is a softer option than chain link it provides a rigid option for aggressive play. It is even built to hold up to any environment and is superior to other fencing options.
Ball containment comes in standard 10' and 6' tall options and is 100% customized to fit your court.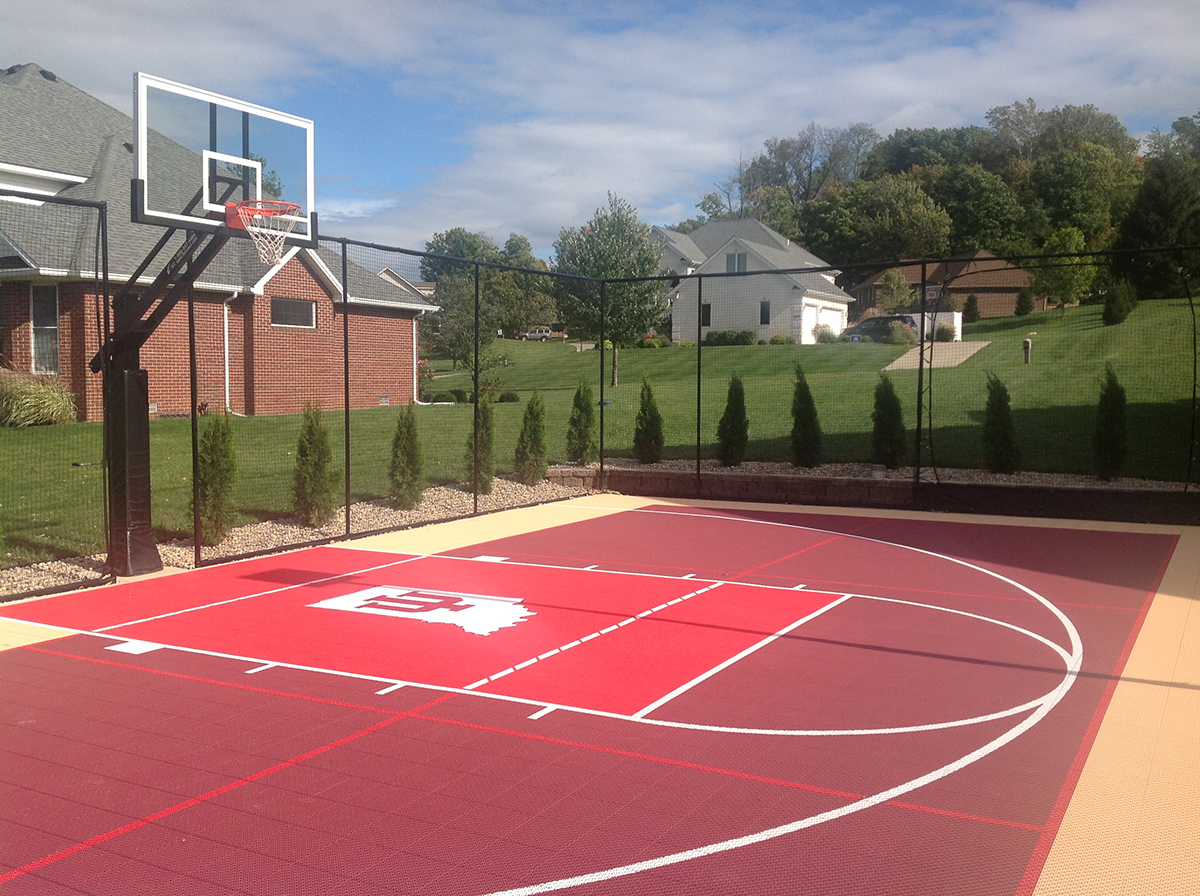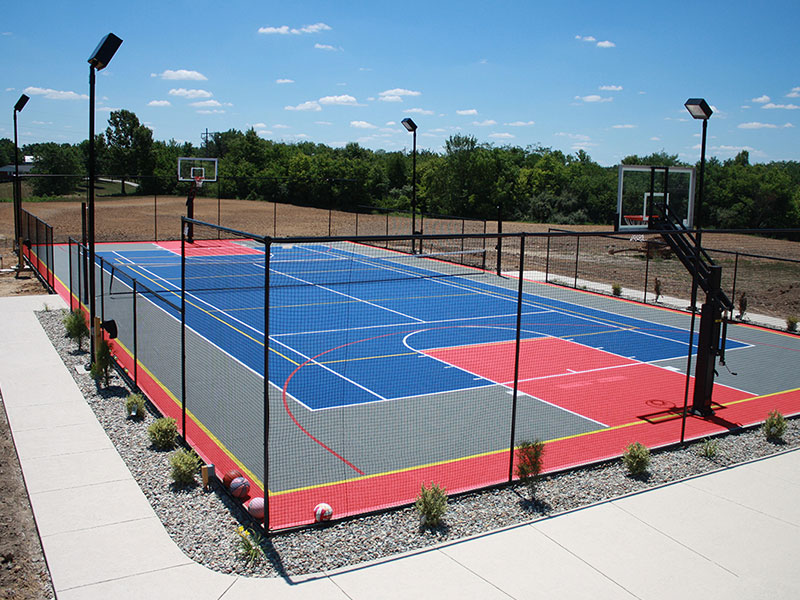 Hinged Light Systems
The Flex Court Hinged lighting system is unparalleled and unmatched against any other light system. The hinged light system does exactly what it's named for. It will hinge down to ground level so you can wire up the lights or even change a bulb at ground level. There is nothing more terrifying climbing a ladder to 18' to change a bulb. Our lights are also adjustable to meet any HOA requirement or city ordinance for light pollution, and we provide many options for light housing. With the addition of a Flex Court hinged light system you can continue to play into the evening and night.
Lighting Options:
Dual or Triple LED
Dual 400w Metal Halide -with LED Equivalent
Single 1000w Metal Halide with LED Equivalent